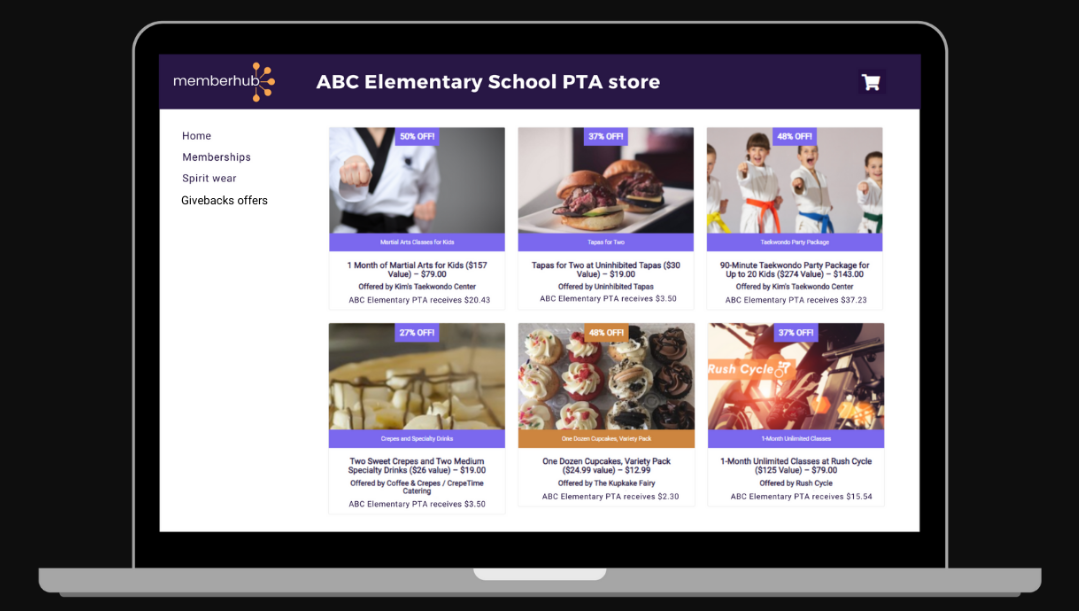 Meaningful Offers...Businesses offer special discounts on everyday family purchases, like meals out, kids' activities, home services, tutoring & more.
How it works!
1. Subscribe to Givebacks Offers - Every week, you'll receive special offers & savings on family purchases to place in your e-store.
2. Your Supporters Shop, Save & Support You - Your supporters get great deals in your e-store - plus the added satisfaction that they're supporting your cause.
3. Get Up To 20% Donated Back on Every Sale - This is a win-win way to boost local businesses while raising passive funds. No extra work required. No strings attached.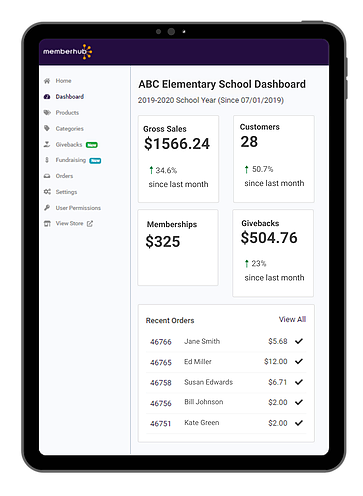 Sell anything online.
Boost everything in your community.
Make it easy for people to buy and donate. Feature special offers from local businesses and get up to 20% of all sales donated back.
KEY FEATURES:
Your e-store is super flexible, allowing you to sell anything and quickly promote items through social media. Sell custom and bundled memberships, spirit wear, event tickets, and more - and collect donations with preset and open donation fields. Manage it all with inventory controls and a performance dashboard.
MemberHub Givebacks
allows businesses to support your organization through your community's everyday purchases in your e-store.
Everyone wins:
Your supporters get a great deal on special offers for everyday purchases.
Your organization gets up to 20% back on every sale -- no extra work, no cost to you, no volunteers needed. Yes - really!
Your organization's community directly supports local businesses when they need it most - and businesses get to directly support your cause.
Subscribe to Givebacks in your e-store to start getting up to 20% of all sales.
Using your e-store for all your online payments saves time and reduces errors that are common with cash and checks. ​Your treasurer will thank you when it's time to reconcile and report financial transactions!
Keep the money you raise in your organization with flexible fees settings in your e-store. You can choose to cover fees or have shoppers cover them.